This article is a

stub

. Please help

expand it

quick, before the Eagle catches you!
Tyrannosaurus Rex
Price
$0.99 or 100 (from the Prize Machine)
The Tyrannosaurus Rex is a playable mascot in Crossy Road. It was added in the Dinosaur Update.
Appearance
Edit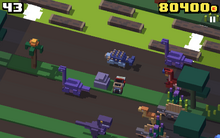 T. rex is a large bipedal dinosaur with a purple ventral and paler purple dorsal. He carries his weight quite far in front of his feet, so be careful. You may not be as far along as it appears because of his weight distribution, so you may be unexpectedly run over.
Characteristics
Edit
The terrain is the Dinosaurs terrain but sometimes SUVs (in a nod to Jurassic Park) appear, escaping when Player come too near. Sometimes the SUV will try to escape in the direction of T. rex, and he may be able jump on it and crush it. Sometimes T. Rex also roars so loud that the screen shakes violently.
How to Obtain
Edit
Tyrannosaurus Rex can be unlocked from the Prize Machine for 100 Coins, or you can purchase it for $0.99.
Ad blocker interference detected!
Wikia is a free-to-use site that makes money from advertising. We have a modified experience for viewers using ad blockers

Wikia is not accessible if you've made further modifications. Remove the custom ad blocker rule(s) and the page will load as expected.