Runner
Price
$0.99 or 100 (from the Prize Machine)
Characteristics
Makes high pitched grunts as she jumps.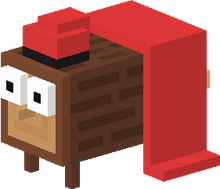 The Runner is a playable mascot in Crossy Road that was added in the Fitness Update.
Appearance
Edit
The Runner has dark brown hair, she is also wearing a orange vest, gray pants and black running shoes. She appears to be wearing a stopwatch on her left arm.
Characteristics
Edit
Similar to most of the standard mascots, the grasslands serve as the terrain for the Runner. Trees and boulders appear as obstacles and the only enemy being the Eagle, who will pick the player up if they idle for too long. She will make high pitched grunts as she jumps.
How to Obtain
Edit
Runner can be unlocked from the Prize Machine for 100 Coins, or you can purchase it for $0.99.
The Runner makes the same noises as the Hurdler, only in a higher pitch.
Ad blocker interference detected!
Wikia is a free-to-use site that makes money from advertising. We have a modified experience for viewers using ad blockers

Wikia is not accessible if you've made further modifications. Remove the custom ad blocker rule(s) and the page will load as expected.