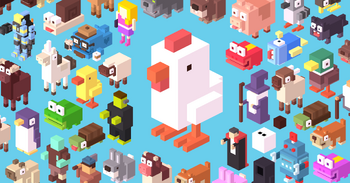 Mascots
are the playable characters in
Crossy Road
. Many characters have unique visual, sound or terrain effects, but they do not alter the gameplay mechanics.
Most mascots can be unlocked through the Prize Machine or purchased through IAPs (In-App Purchases), but some must be unlocked through other means. It is possible to get a repeat of a character in the Prize Machine, so not every use of it is guaranteed to yield a new mascot.
It should be noted that Piggy Bank,Psy, and Pac-Man are not included on the bottom mascot counter, so even though the mascot counter may say that there are 192, there are actually 195.
List of Mascots
Edit
There are currently 222 mascots in total. 209 for iOS, 222 for Android, 205 for Amazon versions. The counter may say that there are actually 206 for iOS, 207for Android, 202 for Amazon versions, but if you count Piggy Bank, Pac-Man, and Psy, you will get the number of mascots above.
Original
Edit
Baby Chicken
Baby Bear
Baby Bunny
Fawn
Fox Cub
Baby Seal
Baby Hippo
Kitten
Iguana Hatchling
Puppy
Tiny Pony
Best in Show
Cat Lady
Lunar New Year 2017 Update
Edit
Door Gods
The Three Deities
Hot Pot
Wintersweet
Serengeti Update
Edit
Octogenarian
Speedy Sloth
Rhino
Lion
African Termite
Warthog
Meerkat
Crocodile
Newt
Space Update
Edit
Space Chicken
Astronaut (alternatenhnhdfr
Astronomer
Rover
Space Dog
Moon Cheese
Robot Dog
Space Walker
Moon Rock
Pay Only Mascots
Edit
Secret Mascots
Edit
Spoiler Alert!
This article/section may contain spoilers. Read at your own risk!
The following is a list of the secret mascots, as well as videos showing how to unlock each one.
References and Citations
Edit
↑

Currently available on Android version only
Ad blocker interference detected!
Wikia is a free-to-use site that makes money from advertising. We have a modified experience for viewers using ad blockers

Wikia is not accessible if you've made further modifications. Remove the custom ad blocker rule(s) and the page will load as expected.