Gifty
Type
Other
Price
N/A (See How to Unlock)
Characteristics
Upon death, confetti will fly everywhere.
Update
Christmas Update (2014)
Gifty is a playable mascot in Crossy Road that was added in the Christmas Update (2014). Unlike most of the other mascots, it cannot be unlocked with the Prize Machine because it is a secret mascot.
Appearance
Edit
Gifty is a yellow present with a white lid and a magenta bow. It also seems to have a Chicken inside, as it shares the same feet and would explain some of the characteristics.
Characteristics
Edit
Upon gameplay, the landscape will be the standard grasslands. Trees and boulders appear as obstacles and the eagle appears as an enemy. When Gifty walks, its feet are animate and they move, giving the illusion of running. Upon death, Gifty lets out an explosion of coloured confetti.
How to Unlock
Edit
Spoiler Alert!
This article/section may contain spoilers. Read at your own risk!
To unlock Gifty, the player must use Festive Chicken and then play until they find a snow plain. Running into the Christmas Tree in the center of the plain will cause gifts to fly out of the center of the Christmas tree. Once the player has finished their run, it will automatically unlock Gifty.
This video shows how to unlock Gifty: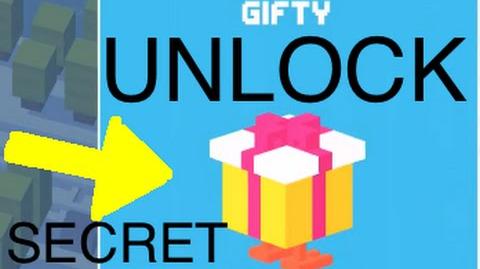 Ad blocker interference detected!
Wikia is a free-to-use site that makes money from advertising. We have a modified experience for viewers using ad blockers

Wikia is not accessible if you've made further modifications. Remove the custom ad blocker rule(s) and the page will load as expected.