This article is a

stub

. Please help

expand it

quick, before the Eagle catches you!
Clyde
Type
Pac-Man
Price
N/A (See "How to Obtain")
Characteristics
Unique Pac-Man terrain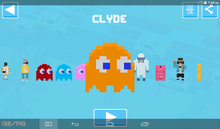 Clyde is a playable mascot in Crossy Road. He was added in the Pac-Man Update.
Appearance
Edit
Clyde is an orange ghost from PAC-Man, similar in appearance to Inky, Pinky and Blinky. They are bright orange with blue eyes.
Characteristics
Edit
During game play, Clyde travels through an unique Pac-Man land, with dark grass, obstacles with different color glowing edges and different color glowing vehicles. The color always changes during game play. When he dies, his eyes fall off and run into a glitch at the bottom of the screen.
With this character, police cars are replaced by Pac-Man.
How to Obtain
Edit
Spoiler Alert!
This article/section may contain spoilers. Read at your own risk!
Clyde is a secret mascot. Therefore, they cannot be obtained by normal means. Instead, the player must use a unique method. To obtain this mascot, the player must play as Pac-Man and eat 7 or more ghosts in 1 power pellet session. It is possible to chain power pellets and obtain Clyde.
Pac-Man™ ©BANDAI NAMCO Entertainment Inc.
Ad blocker interference detected!
Wikia is a free-to-use site that makes money from advertising. We have a modified experience for viewers using ad blockers

Wikia is not accessible if you've made further modifications. Remove the custom ad blocker rule(s) and the page will load as expected.